Francie, 2017, 96 min
Séverine Enjolras, Magali Bragard
04.03.2020 15:00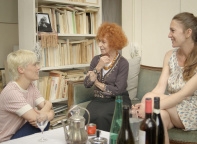 During a summer in Paris and its suburbs, two young directors attempt a remake of "Chroniques d'un été", fifty years after the cult film of Rouch and Morin. An offbeat portrait of nowday's youth, as a mirror image of the 1960s, while questions of the "cinéma vérité" are revisited with fancy.

Séverine Enjolras and Magali Bragard are both holders of a DEA in visual anthropology obtained in 2003 in Paris 10 - Nanterre, under the direction of Jean Rouch. In 2009 they co-directed a short documentary film, "Dombes", on the study and management of a health risk. They are both teachers in documentary cinema, they created and organized in 2007 and 2008 a festival of films in the West Bank. Séverine Enjolras has also directed several documentaries, institutional films and films around citizen consultation workshops. Magali Bragard, in addition to his work of realization, is also a stage and press photographer.

Director, camera, script: Séverine Enjorlas, Magali Bragard
Production: Survivance
Edit: Magali Bragard, Thomas Laufer

Language of dialogues: French
Language of subtitles: English

Award of Excellence in Visual Anthropology, Ethnocineca, Vienna, Austria
Trailer: https://vimeo.com/237268706