Bahamas, 2012, 30 min
Andrew Turley
25.01.2013 20:00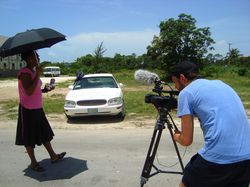 Marjorie is a descendent of Haitian immigrants living in Bahamas. All her life is faced with who she is, who has to be and what she feels by herself.
Andrew Turley recent MA graduate of Granada Centre for Visual Anthropology, University of Manchester.
Director: Andrew Turley
Production: Granada Centre for Visual Anthropology
Language of dialogues:English and Haithian Creole
Language of subtitles: English, Czech